No Wonder It's Called Triple Play!
December 16th, 2011 | Posted in
Event Highlights
|
No Comments »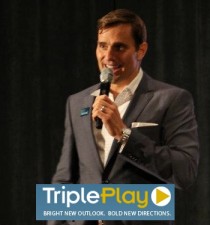 With three great states meeting in Atlantic City can you think of a better name? This event was a hoot! You guys had a ton of attendees, a great line-up of speakers and expo exhibitors. Hands down Bill Rancic was one of my favorite Keynotes I've every heard. It wasn't just his engaging personal delivery style it was his life lessons that made us want to change the world.
I enjoyed meeting so many of you and engaging with you after my presentations hearing about what you do in your own businesses. The best tip was from a gal who does Home Buying Seminars. She contacts  local large businesses and government agencies to conduct "Brown Bag Home Buying Seminars." It's a great way to have a captive audience. The employer does the marketing for you, all you have to do is show up and present! Thank you to whom ever shared that tip with us.
As promised I wanted to share my presentations with you, so you can go back to your offices and share with your colleagues.
Oh, and by the way… NJ's hospitality was also a highlight of my trip!   It cracks me up that there is really a "law" not allowing you to pump your own gas?! Which I found out the hard way! It was a memorable trip for sure.  From the sessions, to dinners with new and old friends. Thank you for having me!
Till' Next Time, May the Road To Success Be Yours!
Shannon W. King